There are many reasons to buy artificial turf for use in your home. Here we look at the 8 best reasons:
The look of Artificial Turf is Very Realistic.
In the image below it is very difficult to tell the difference between the fake grass and the real grass in the background. The artificial grass in the backyard blends seamlessly with the surrounding landscape providing a lush, green, natural look for the residents to enjoy outdoors. Even the colour choice of the outdoor fake grass blends in with the natural colour of the real grass outside the fence line. When buying artificial grass, homeowners can customise the look by the type of pile they choose, the colour of the grass (yes there are different shades of green) and the material it is made from. When buying artificial grass it is recommended to buy it from a supplier who also installs the imitation grass. The look of outdoor fake grass in residential landscaping applications is greatly enhanced with proper preparation of the site and attention to detail when it comes to levels, drainage, joins, edges and the direction of the pile. With professional installation, the outdoor artificial grass in your backyard will continue to look realistic for years to come.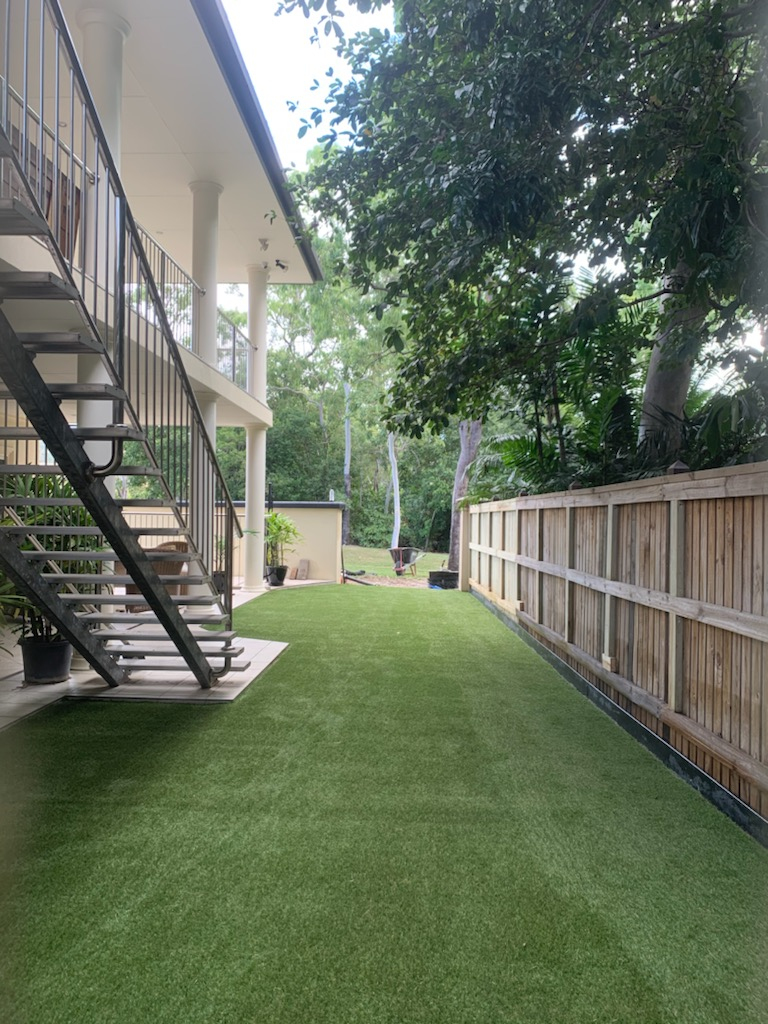 Outdoor Fake Grass Saves You Time
Once your outdoor fake grass is installed you will save hours of time. Remember all those hours spent mowing the lawn, wedding, fertilising and disposing of lawn clippings? Once you install your imitation grass, you will regain all the hours you spent doing those chores – freeing your time up for other more enjoyable activities.
Artificial Grass Landscaping is Very Convenient
Artificial grass continues to look good even when you are not there. This feature of fake turf is very convenient if you decide to go on an extended holiday or you become less active for some reason. Or maybe you are a working professional or a family who goes off to sporting events every weekend, leaving you very little time for outdoor yard work. It is very convenient to be able to just close the garden gate and drive away, knowing that your outdoor lawn will continue to look great despite your absence. When you do get home, it is just as convenient with nothing left for you to do except enjoy the beautiful landscaping.
Landscaping with Artificial Turf Solves a Lot of Problems
Artificial turf is particularly useful in problem areas where grass is difficult to grow, such as in heavy shade, high traffic areas or areas your pets tend to wear down by constant use as is evident in the before and after photos below.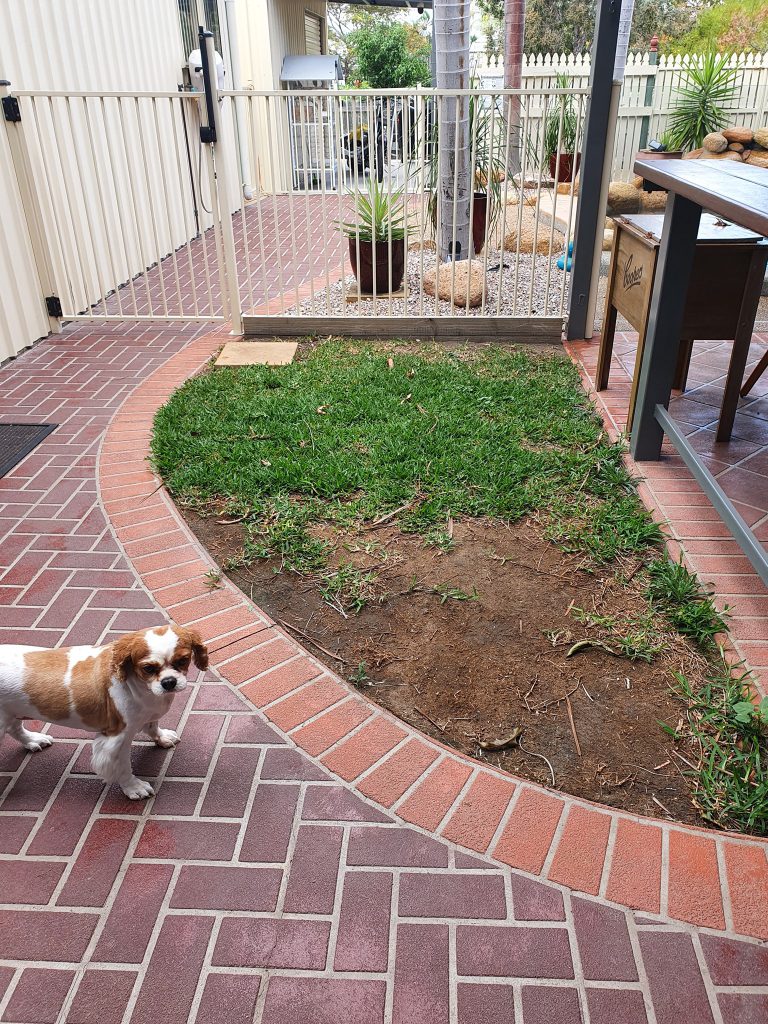 Buying Artificial Grass Saves You Water
Fake grass does not need watering! This saves you water while providing you with a sustainable outdoor landscaping solution that will last for years to come.
Buying Artificial Grass Saves You Money Over The Long Term
When considering buying artificial grass, some people cannot see past the initial investment and consider buying artificial grass an expensive choice. However, when you do the sums and add up the hours of mowing, fuel, equipment costs, water and fertilizer costs, the figures start to work in favour of investing in imitation grass. Combined with all the other features, the cost/benefit analysis of artificial grass starts to make sense. Ultimately the decision around buying artificial grass will revolve around your lifestyle.
Landscaping With Artificial Grass Provides An Instant Effect
Imagine leaving your home in the morning with it looking bare, brown and free of grass and returning home again to find it looking like a lush, green, perfectly manicured lawn. Landscaping with artificial grass achieves just that effect which is great for newly built residences and gardens needing an overhaul.
The Enjoyment Factor
Once you have purchased your artificial grass and had it installed outdoors, all that is left for you to do is enjoy. Your fake turf will provide a beautiful landscape which can be enjoyed by your family for years to come.
If you have a special project in mind, contact us to discuss the possibilities.