When we talk about artificial turf we traditionally think about sporting fields, possibly due to the early emergence of artificial grass in sporting settings.
Perhaps influenced by the use of artificial turf in baseball and grid-iron sporting stadiums, the use of artificial turf on sporting fields in Australia has become more commonplace. One of the earliest applications of artificial turf in Australia was seen on outdoor cricket pitches, later evolving to indoor cricket pitches. These days the use of artificial turf is widespread in sporting stadiums throughout Australia, including on soccer fields, netball courts, hockey fields and tennis courts.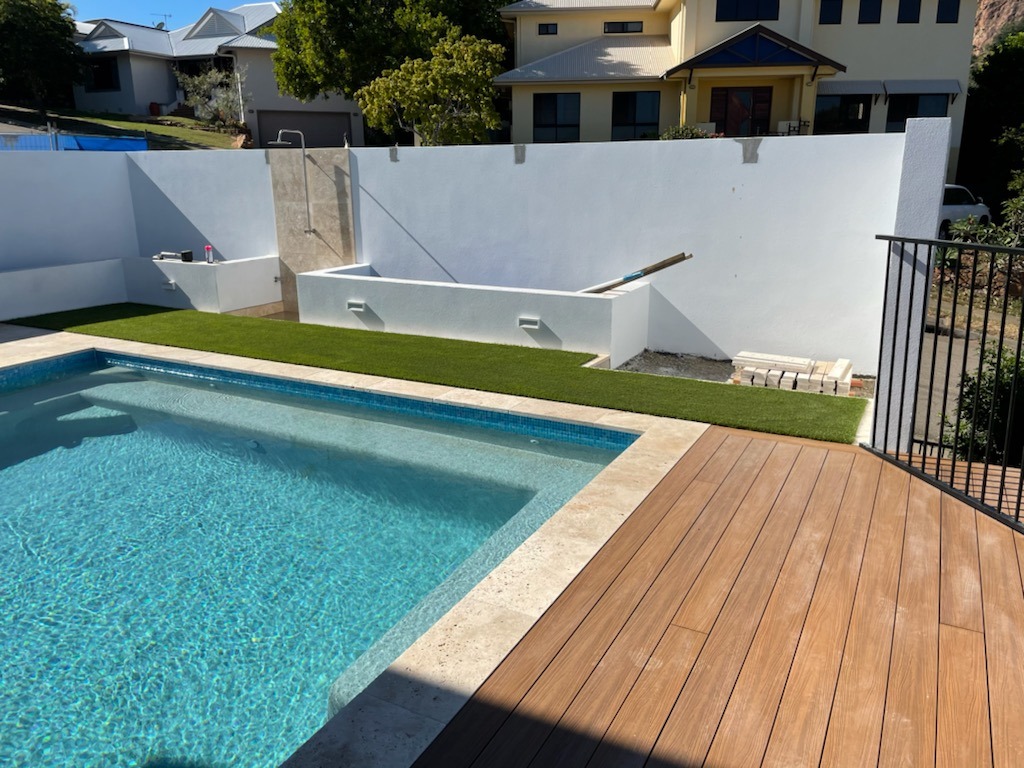 Today artificial grass comes in all shades of green (as well as vibrant colours), many different textures and lengths. It is also made from a range of different products with sustainable and more environmentally friendly options evolving in response to market demand. This provides a huge range of choices to consumers and has led to many people asking the question, "Is artificial grass the right choice for me?"
To answer this question you really need to think about why you are thinking about artificial grass in the first place. Chances are you are fed up with mowing and watering your lawn all the time and you want to save yourself the time and the hassle. If this is the case artificial grass could be just what you need.
So how do you choose the best artificial grass for you? In our experience, client's are happiest when the look of the final product meets their expectations, so we recommend you look at various types of artificial grass in both the showroom and installed in a similar setting to yours. While photos can give an initial indication, nothing beats an onsite visit.
Maccas Grasses has been installing artificial grass around the central coast of Queensland for many years now, including artificial grass installation in Townsville, Mackay, Rockhampton, Mount Isa and other areas of Central Queensland. Therefore, we can refer you to many different locations so you can see for yourself the various types of artificial turf and decide which type is the best artificial grass for you. It is also a good idea to have a look at some locations where the artificial grass has been installed for a little while. At these inspections, it will become apparent that preparation of the surface before the fake grass is installed is essential in the installation process and to maintain a pleasing appearance into the future.
Improper installation will result in imperfections in the appearance of the artificial grass. For example, if the base or sub-surface is not properly compacted, holes or divots will appear and eventually, water will begin to pool, exacerbating the problem further. Many people, homeowners especially, think they can save money by just buying the actual artificial grass and laying it themselves. If you don't know what you are doing this actually turns out to be a false economy, resulting in a degrading appearance and often the need to fully replace the entire fake grass.
In our opinion, the best artificial grass to buy is one that has been installed properly with consideration given to the type of grass, the drainage, subsurface, edge and seam fixings, the direction of the blades and proper stretching – not too tight and not too loose!
If you are thinking about installing artificial grass please talk to us about the range of products available and the design and installation process involved before buying. The team at Maccas's Grasses has been installing artificial grass for years and has extensive local knowledge about the artificial grasses that best suit the harsh central Queensland climate. We know our grasses and we know how to correctly install them.
Please contact us to discuss your ideas, consider all your options and arrange a quote.
A word about Astro Turf
Artificial grass is often referred to as astroturf. This term originally was used in America by a company that produced artificial turf or grass for playing surfaces and has since been adopted as a generic term for artificial grass. In Australia people tend to think about astro turf in the context of sporting fields but sometimes use "astro turf" as an umbrella term for all artificial grass.