Artificial grass has been around since the 1960s and has seen many developments in its look and feel since those humble beginnings. In the early years, artificial grass did not have the authentic look and feel that it has today. This most likely was partly the reason behind consumers adopting the term "fake grass" when they were referring to artificial grass. The other part was of course the composition of the artificial grass, with the term fake grass also intended to make it clear that the fake grass was not real.
One of the earliest patents for artificial grass occurred in 1965 by James M Faria and Robert T Wright. It was originally patented under the name "Chemgrass" and was later rebranded "Astroturf." Astroturf is actually a product or brand name for a particular type of artificial grass. However synonymous with its use, the term "Astroturf" is broadly used to refer to the installation of artificial grass on sporting fields and other outdoor sporting and landscaping applications.
So what is the difference between fake grass and artificial grass? It's all about perception and the passage of time. Changing trends and marketing have seen consumers and suppliers of artificial grass label the product differently. While there may be differences in brands and product range, there really is no difference between fake grass and artificial grass.
Interestingly, many consumers still refer to the artificial grass as fake grass. The name seems to have stuck despite the term "artificial grass" being the more accurate umbrella term to describe all types of manufactured grass. For example, when customers come into our store to buy artificial grass, many often say they are here to buy fake grass.
Certainly, artificial grass has surged in popularity. You need only watch some of the latest renovation or reality shows on TV to see that fake grass is being used more and more frequently, particularly in small backyards with limited access. Lifestyle factors are key considerations when choosing to install artificial grass in a backyard, front yard or outdoor area. Homeowners don't want to waste time mowing backyard lawns during the weekend, nor do they want to weed and fertilise. Rather they want to enjoy the limited time they have relaxing in the backyard, playing with the dog or their children on a lush, green, grassy area free from weeds and prickles. Likewise, many empty nesters enjoy the convenience of artificial grass in their backyard. Not having to worry about the lawn getting too long, dying or causing fire hazards provides great peace of mind when on holidays or extended travel.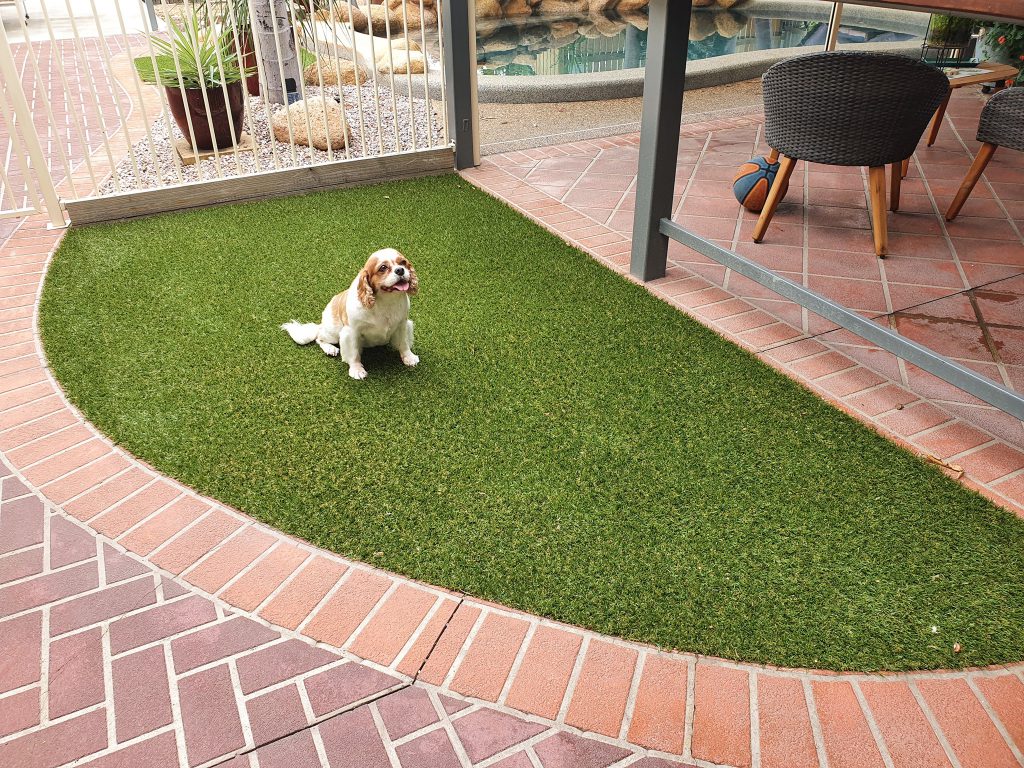 The best artificial grass is the one that meets your needs the most. A popular criterion for choosing the best artificial grass is the look. Consumers want fake grass to look like real grass, particularly when choosing artificial grass for their backyards. In reality, they don't really mind what the artificial grass is called – they just want it to look realistic and appealing. Lush, green, low maintenance artificial grass provides homeowners with the best of both worlds providing a pleasing landscape without the continuous hard work.
If you are keen to buy some fake grass (maybe you prefer to buy some artificial grass 😉 ) come and speak to our team at Maccas Grasses about the various types of products available and get your hands on some samples of artificial grass to see which type you like best.
Our friendly and experienced team can give you some great advice and help you get your project started.
Check out one of our artificial grass suppliers