In Central Queensland towns like Townsville, Charters Towers, Ayr, Bowen, Mackay and Airlie Beach, fake grass is increasing in popularity, particularly in the gardens of newly built homes.
Establishing a new lawn in areas like Charters Towers, which is inland from the coast, can be particularly challenging. Extremes of climate and huge fluctuations in rainfall mean it takes a lot of time and hand watering to achieve a lush green landscape in your backyard. Even once the lawn has been established, it requires significant amounts of watering and time to keep your lawn looking pristine. Opting for outdoor fake grass in your backyard completely solves these problems, with the artificial lawn looking green and pristine for years to come.
A synthetic lawn is also used in coastal areas of Central Queensland like Airlie Beach and Mackay. While the conditions are a little less extreme than in Charters Towers, there are still huge variations in rainfall and temperature, which make establishing a new lawn difficult. After initial site preparation to ensure the outdoor area is level, compacted and well drained, an artificial lawn provides almost instant results. This feature is particularly attractive to owners of new homes because the artificial lawn not only looks great but provides a "carpet" to control the dust and dirt, effectively stopping dirt from around the new build being carried into the home and helping to quickly establish the landscape.
New housing estates are popping up everywhere on the Central Coast as migration to Queensland increases and homeowners opt for a sea change. A drive along the coast from Mackay, via Bowen and Ayr, to Townsville, illustrates the strong growth that is occurring. People need places to live, so new houses are going up everywhere. With the new homes come new gardens and lawns. In opting for an instant artificial lawn, there are many textures and lengths of grass to choose from, allowing homeowners to tailor-make or design the landscape they are after.
For example, this artificial grass installation was completed by Maccas Synthetic Grasses at a new housing estate in Townsville. Comfort Plus synthetic grass was selected by the homeowner, and once installed, provided instant, lush, green and realistic fake grass for their backyard.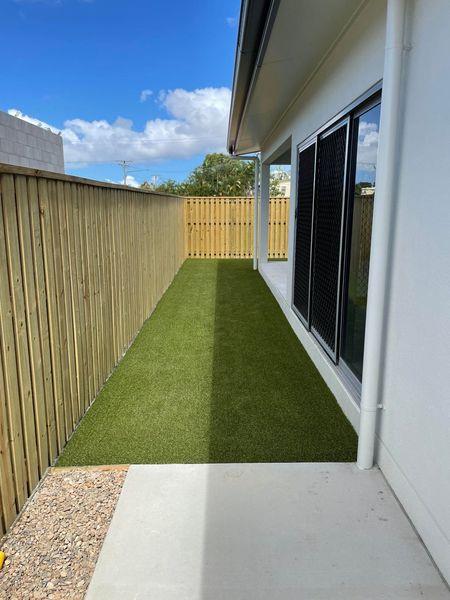 Comfort plus synthetic grass installed in the new Summerset Estate, Townsville
In West End, Townsville, we installed Fresh Cut 25 to achieve another very realistic result.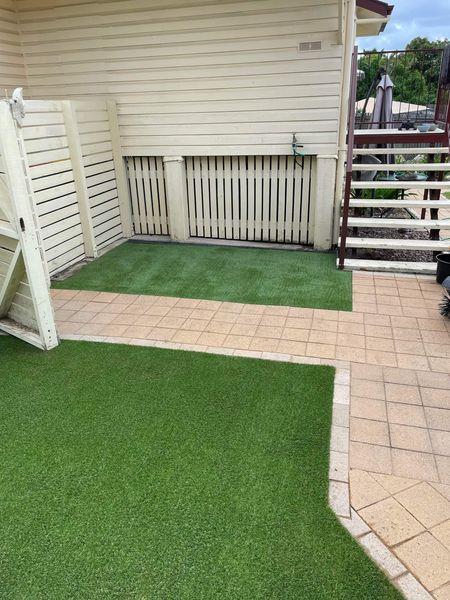 Apart from the aesthetic appearance of synthetic grass, artificial grass is also popular for its sustainability, durability and low maintenance. While the initial investment is more significant than traditional grass, over the long term, the figures stack up, especially when combined with lifestyle and time-saving considerations. As population growth and new builds increase in Central Queensland, the popularity of fake grass will continue to surge.
If you have a new build and a particular landscaping project in mind, definitely check out the vast range of synthetic grasses available through Maccas.
Contact us to discuss your project today.